Swimming pool covering "SIMPLY COVER"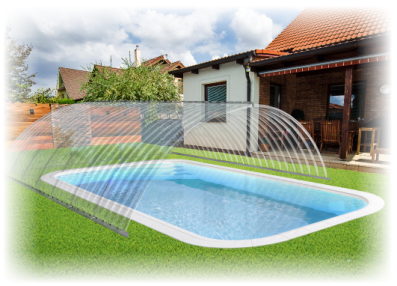 "SIMPLY COVER" is the
patented
swimming pool covering, fully transparent thanks to the the lack of supporting metallic structure.
It is the best solution for pools up to a width of 5.5 mt. and of any length, due to the modularity of the elements of which it is composed.
The elements themselves are designed to be easily handled, assembled and disassembled by two people with simple and short laying operations.
Thanks to "SIMPLY COVER" you can:
• Extend the use of your pool even in the months less hot
• Protect the pool from inclement weather
• Keep the water always clean
• Keep the water temperature more pleasant than environment temperature, thanks to the natural greenhouse effect
• Ensuring the safety of your children
• Economize compared to swimming pool coverings available on the marketplace until now
"SIMPLY COVER" is available with the starting and ending vertical closure (the unique points where there is a light metal structure) in openable or fixed version version.
Get your custom offer now WITH NO OBLIGATION!
The informative material about "SIMPLY COVER" is available in the
DOWNLOAD AREA
.